<p>Le blouson Airshell est parfaitement adapté à la pratique de l'équitation par temps frais. Compatible avec l'airbag Zip'in 1 et 2 ce blouson est très agréable à porter avec sa matière softshell et sa coupe cintrée.</p>
Technologie
Protection airbag : Le airshell blouson utilise la technologie Zip'In. L'airbag Zip'in absorbe et répartit l'énergie des impacts pour minimiser les blessures. La forme unique de l'airbag Helite permet de stabiliser le tronc très efficacement.

Système d'activation mécanique : Le airshell blouson utilise un système d'activation mécanique. Ce système développé par notre équipe d'ingénieur est fiable, simple et robuste.

Réutilisable : Notre technologie airbag est réutilisable grâce à une cartouche de gaz que l'on peut changer facilement. Cette cartouche sera le seul composant à changer en cas d'activation de la doublure airbag.
Acheter une cartouche
Sécurité
La cartouche ne peut pas blesser le cavalier. Une plaque PVC et une petite mousse sont placées derrière la cartouche par mesure de sécurité.
Pour assurer la fiabilité et la rapidité de gonflage il est important d'utiliser la sangle d'étrivière.
Infos
Coupe-Vent

Impermeable

airbag equitation Airjacket

Respirant

Invisible
Compatible Zip'In : Le Blouson AIR SHELL est compatible avec l'airbag Zip'in. Celui-ci se zippe dans le blouson AIR Shell très facilement et rapidement.
Soft-Shell technique respirante, coupe-vent et imperméable.
Le gilet airbag dispose de deux poches extérieures et de zip d'aération.
Cartouche invisible : La cartouche et son percuteur sont ingénieusement dissimulés pour plus d'esthétique.
Softshell élastique qui peut être portée près du corps sans que l'airbag ne compresse trop au gonflage.
Composition : 83% Polyester, 14% Elasthane, 4% Polyuréthane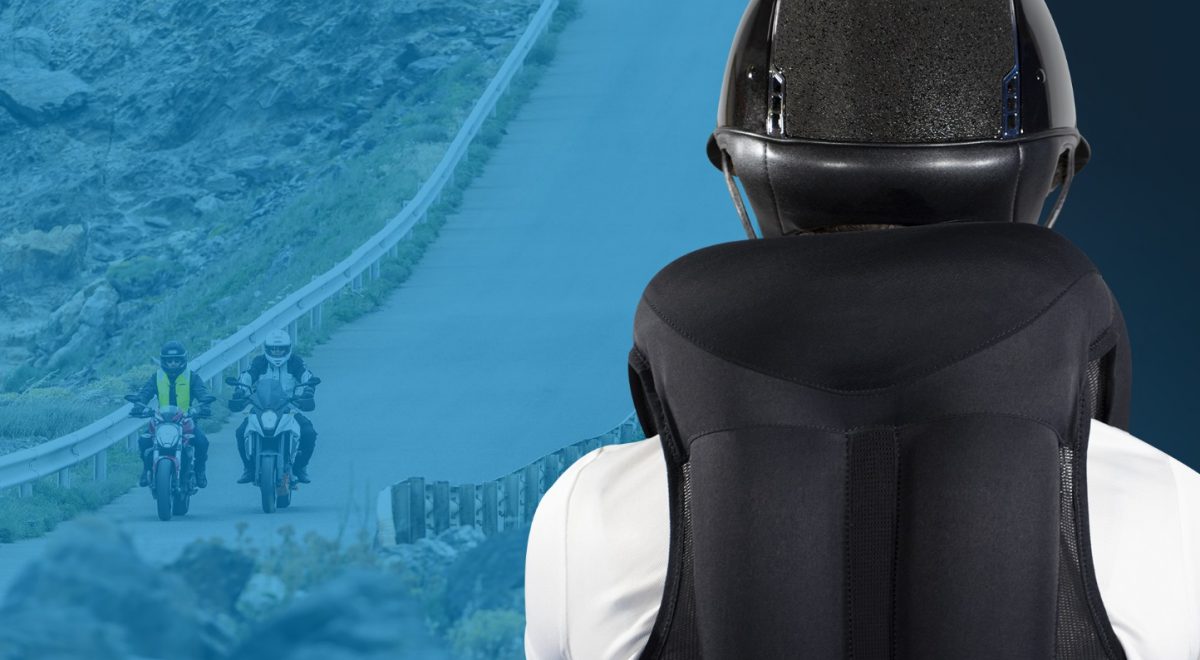 ">
FAQ & Manuels
De l'aide pour votre produit
Comment recharger son AirBag ?
Toutes les vidéos
Guide des tailles
How to measure?
A. Measure from the floor to the top of your head.
B. Measure horizontally around the fullest part of your chest, under the armpits.
C. Measure horizontally around your abdominal, where its at its deepest point.
D. Measure the circumference, from pelvic bone to pelvic bone, at the widest part of your hips.
E. Distance between the summit of your upper-arm and your wrist bone. The cartridge size must fit the airbag size.
Taille
165-180
170-185
170-185
170-185
170-185

Tour de poitrine
85-95
90-100
90-100
90-100
90-100
Tailles (inche)
XS
S
M
L
XL

Text
Number
Number
Number
Number
Number

Text
Number
Number
Number
Number
Number