Airbag protection

The unique airbag shape
Whether the detection is mechanical or electronic, our core business is to offer you the best airbag protection in case of a fall or accident.
To determine the areas covered by the airbag, we have decided to focus on the vital
on the vital parts. Our goal is to protect people effectively and to avoid
serious injuries.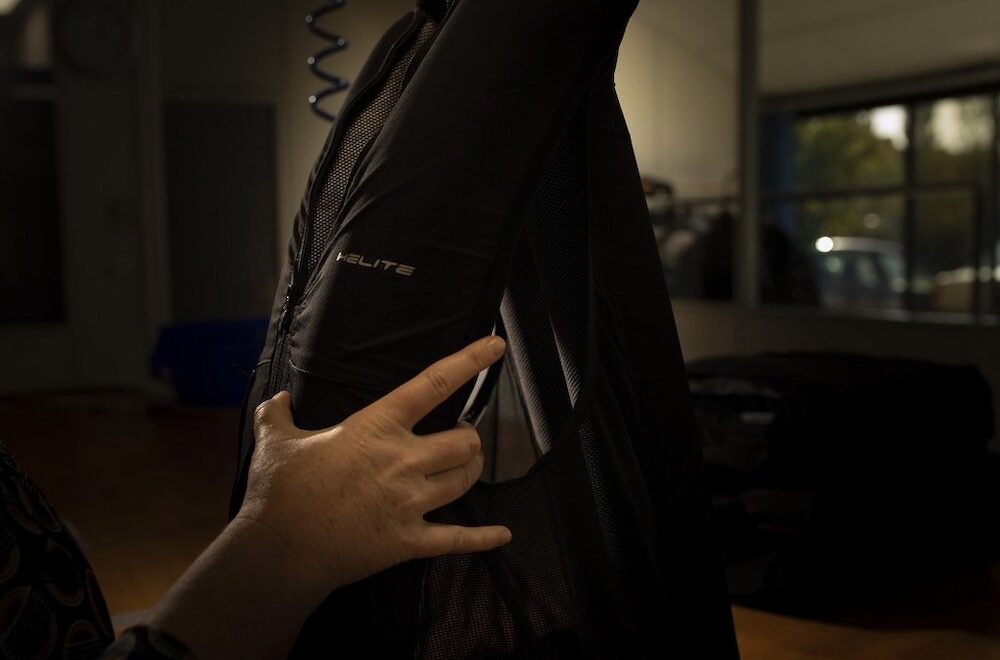 The shape of our airbags stiffens the trunk, avoids hyperflexion and stabilizes the cervical vertebrae.
OPTIMAL NECK PROTECTION
BIG PROTECTION VOLUME
ULTRA FAST INFLATION
REUSABLE

OPTIMAL NECK PROTECTION
If there is one thing Helite does not compromise on, it is the maintenance of the neck and cervical vertebrae. This very sensitive area of the human body needs to be optimally protected. The deployment of our neck brace blocks the movement of the head and prevents whiplash.

BIG PROTECTION VOLUME
We have chosen to design airbags with a big volume (from 17L standard size to 28L large size) in order to absorb impacts and to completely cover vital parts. This is a crucial point that significantly determines the effectiveness of protection. A too small volume does not protect sufficiently in case of impact.

ULTRA FAST INFLATION
Our airbags offer a wide protection area from head to tailbone:
Maintaining the cervical vertebrae and the head.
Rigidification of the trunk to stabilize the vital organs: thorax, lungs, pancreas, abdomen, stomach, liver.
Complete protection of the spinal column.
Kidney and hip protection*. The trunk is maintained to better resist hyper-flexing.
*except GP Air and B'Safe models.

REUSABLE AIRBAG
A long term protection equipment! After a fall, the user can recharge the airbag himself within a few minutes. Simply change the gas cartridge to reactivate the system. It only takes 2 minutes!